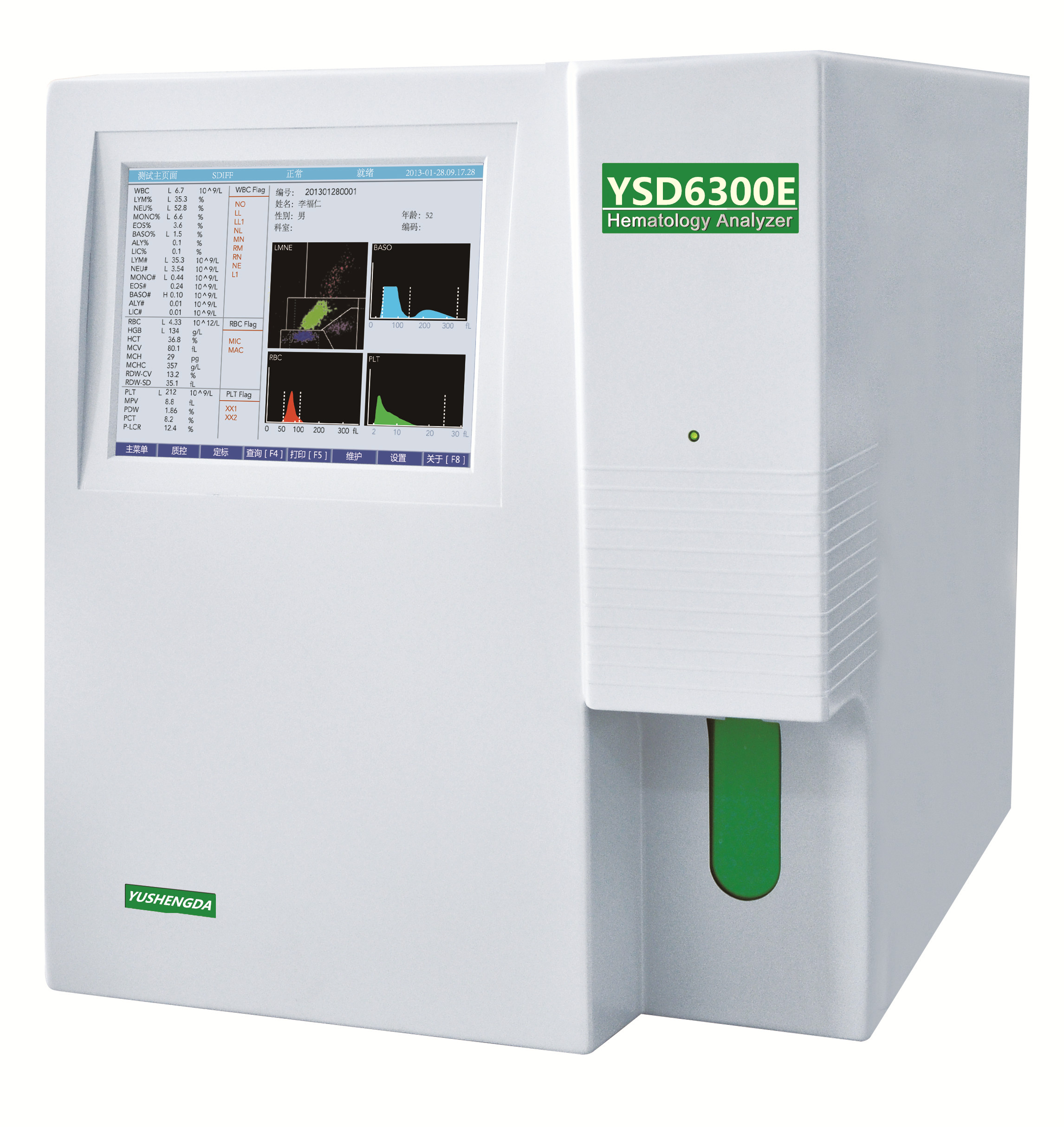 YSD6300E Full Automatic 5-part diff. Hematology Analyzer
YSD6300E analyzer is a 5-part diff. Multi-parameter automated hematology analyzer designed for clinical laboratories.
The analyzer uses light scatter and impedance technology for WBC diff, and impedance method for RBC and PLT.
With most updated technology and concept, it bestly meets most labs' need. The machine is of friendly software,
powerful function, stable part diff. and accurate results.

Main Features:
Automatic alarm and diagnostic for abnormal results or problems.
Sampling Mode: Manual sampling,Closed tube sampling and Auto loader.
The measuring system is constant temperature controlled to ensure the analyzer provide accurate and perfect results.
Multi-langage interface (English,Spanish,Rissia,French. Others on nned).
Automatically quality management function.
Wide linearity range for each parameter.
Enviroment friendly reagents (free of cyanide).
Model
YSD6300E
Sampling
Manual
Auto loader
None
Barcode
Optional on request
Parameters
WBC;LYM#;LYM%;NEU#;NEU%;BAS#;BAS%;MON#;MON%;EOS#;EOS% RBC, HGB, HCT, MCV, MCH, MCHC, RDW-SD, RDW-CV, PLT, PDW,MPV, PCT,P-LCR, ALY#,ALY%, LIC#, LIC%,
RBC histogram, PLT histogram, Baso histogram and WBC differential scattergram
Measuring Principle
Impedance for RBC, PLT, Baso
Photometry for HGB
WBC diff: optical light scatter + Impedance
Sample type
Whole blood: 50μl or capillary blood: 20μl
Throughput(T/Hr)
60
Data transmission
RS232C, USB
Reagents
Diluent, Detergent, lyse, baso-lyse, eo-lyse
Cell Dying
More stable and harmonious
Operation system
More Friendly interface with Multilanguage available
Data storage
More than 10000 lecture
Communication port
With USB, PS/2 and COM
Power supply
100-240V, 50/60 Hz
Dimension
400*420*490mm
Weight
25kg
Work environment
Temperature 18-28ºC, Humidity 30-85%

Trade & Market
Main Markets
Total Revenue(%)
Africa
11.00%
South America
10.00%
North America
12.00%
Western Europe
20.00%
Domestic Market
10.00%
Mid East
6.00%
Eastern Europe
7.00%
Central America
5.00%
Northern Europe
4.00%
Oceania
4.00%
Southern Europe
3.00%
Eastern Asia
3.00%
Southeast Asia
3.00%
South Asia
2.00%
Export Percentage:
81% - 90%
Export Mode:
Distributor /Agent/
No. of Employees in Trade Department:
20-30 People



Why choose us:
* Professional manufacture for 7 years
* Various medical Machine for your selection
* Good after-sales services agreement
* Favourable and Competitive price
* Stable quality